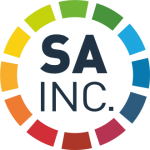 SA INC is about changing conversations – from the dinner table to the shebeen, from dusty street corners to gym cafeterias. It's about shaking off the doom and gloom of mainstream media and sharing the positive real news that doesn't reach the headlines. SA INC tells stories about South Africa's most progressive, innovative and switched-on organisations, that are placing people at the centre of their vision and have committed to the ethos of profit-with-purpose and the pursuit of inclusive, sustainable business growth. Be inspired as we share these stories throughout 2021 and into 2022, celebrating all that is good in South Africa.
Howard Hindoga, a winner of the 2017 MoneyMakeover challenge, has gone from security officer with no tertiary education and bleak hopes for his financial future, to successful property entrepreneur, ensured of a comfortable retirement.
Through the economic development of communities, ACWA Power is enabling people to realise dreams that were previously unattainable.
SA INC EP4 ACWA Power 12minute
SA INC EP 4 ACWA Power 3minute
SA INC EP 4 ACWA Power 1min
What Coronation is doing is not only managing people's hard-earned money but also striving to be a good corporate citizen by contributing to society in a meaningful way.
SA INC EP6 Coronation 12minute
SA INC EP6 Coronation 3min
SA INC EP6 Coronation 1min
The Development Bank of Southern Africa is stimulating rural economies by providing finance which enables infrastructure development.
"For us, people are our identity. They resonate the pride we have in being a South African company. We're really trying to make a difference to both society, as well as our clients".
SA INC EP10 Dimension Data 12minute
SA INC EP10 Dimension Data 3min
SA INC EP10 Dimension Data (Thabiso) 1min
Engen is passionate about creating a better South Africa through a holistic approach to empowerment which improves lives from grassroots up.
SA INC EP3 Engen 24minute
SA INC EP3 Engen 1min (Wasaa)
To minimise the environmental impact to the area, Exxaro had to re-consider their original design, which has resulted in a staggering 98% reduction in their footprint.
SA INC EP7 Exxaro 12minute
SA INC EP7 Exxaro (Mxolisi) 1min
Gradidge-Mahura Investments
This is what lies at the core of Gradidge-Mahura Investments: a client base of which they are immensely proud, and the fact that they have built a South African business whose assets come from across the population, age, and gender spectrum.
SA INC EP5 Gradidge Mahura 12minute
SA INC EP5 Gradidge Mahura 3min
SA INC EP5 Gradidge Mahura 1min
MultiChoice grows local content, talent and industry through innovatively enriching the lives of both their customers and their employees.
SA INC EP2 Multichoice 12minute
SA INC EP2 MultiChoice 3min
SA INC EP2 MultiChoice 1min
Old Mutual Alternative Investments
Collaboration between government and the private sector in the provision of education, housing and renewable energy solutions has made it possible to sustain the much-needed growth on the African continent.
SA INC EP5 Old Mutual 5min
SA INC EP8 Old Mutual (Thandi) 1min
Pearson's world-class educational solutions and assessments equip South African learners and students with the tools to succeed.
SA INC EP6 Pearson 12minute
SAB has been an integral part of the fabric of South African society and is fully dedicated to changing the lives of individuals and the communities in which they live.
Sanlam has been on an empowerment journey for over 20 years, and it's been a great story. And now, of course, Sanlam finds itself in a completely different scenario, being much more transformed, reflective of South Africa and present in 33 countries on the African continent.
SA INC EP9 Sanlam 12minute
In addition to demonstrating its commitment to education, Sibanye-Stillwater is actively involved in improving the prospects of the communities in which it operates.
SA INC EP7 Sibanye Stillwater 12minute
SA INC EP7 Sibanye Stillwater 3min
SA INC EP7 Sibanye Stillwater 1min
SPAR's passion for sustainable growth is achieved through transformational retailing, and creates a chain of empowerment from the ground up.
Education is essential for South Africa's growth and, after #FeesMustFall, Standard Bank asked how they could have a positive impact on tertiary education.
SA INC EP9 Standard Bank 12minute
SA INC EP9 Standard Bank 3min
SA INC EP9 Standard Bank 1min
Through food hampers, and the upgrade of food gardens, Tiger Brands are not only feeding communities but empowering them to be self-reliant.
SA INC EP1 Tiger Brands 12minute
SA INC EP1 Tiger Brands 3min
SA INC EP1 Tiger Brands 1minute (Vusi)
By empowering SA youth with global skills, and facilitating rural growth via digital learning, T-Systems is powering the digital economy.
SA INC EP2 T Systems 12minute
SA INC EP2 T Systems 3minute
SA INC EP2 T Systems 1min